5.5 Acres – Estates of Colorado, Park County
HUGE! 5+ Acres in Estates of Colorado with easy access. 32 minutes to Hartsel, CO. Sublime mountain sunsets. Enjoy the nearby mountains and local fishing spots at Spinney Mountain State Park and Eleven Mile Canyon Reservoir. Beautiful and scenic Colorado with Cottonwood and Mount Princeton Hot Springs just about an hour away or swing by Breckenridge for an all weekend outing only about 50 minutes away – Low down! Low monthly payment! […see below…]
SURROUNDING PHOTOS
Property Details
| | |
| --- | --- |
| Address: | 136 Beniha Trail |
| Size: | 5.5 acres |
| County/State: | Park County, Colorado |
| Closest City: | Hartsel |
| Zoning: | Residential |
| Access: | Dirt Road |
| Approx. GPS Coordinates: | 38.820517, -105.757554 |
| Power: | None |
| Water: | None |
| Septic: | None |
| Annual Taxes: | $66/yr |
| Conveyance: | Special Warranty Deed |
Financing Details
| | |
| --- | --- |
| Seller Financing: | $695 Down + $175/mo for 42 months |
| Cash Price: | $5,995 |
| Document/Recording Fee: | $199 |
| 12-Months-Same-As-Cash: | If you choose to finance and you pay off the balance within 12 months, we will still honor the cash price! |
Purchasing is super simple
Click on the Make Down Payment button below to make the down payment and the document fee.
We will complete the paperwork and forward it to you for signature online.
We will then follow up with you with details on completing the transaction.
Go and enjoy your land.

Or Call


214-901-7077
For more information on the buying process, click How to Buy Land.
MAP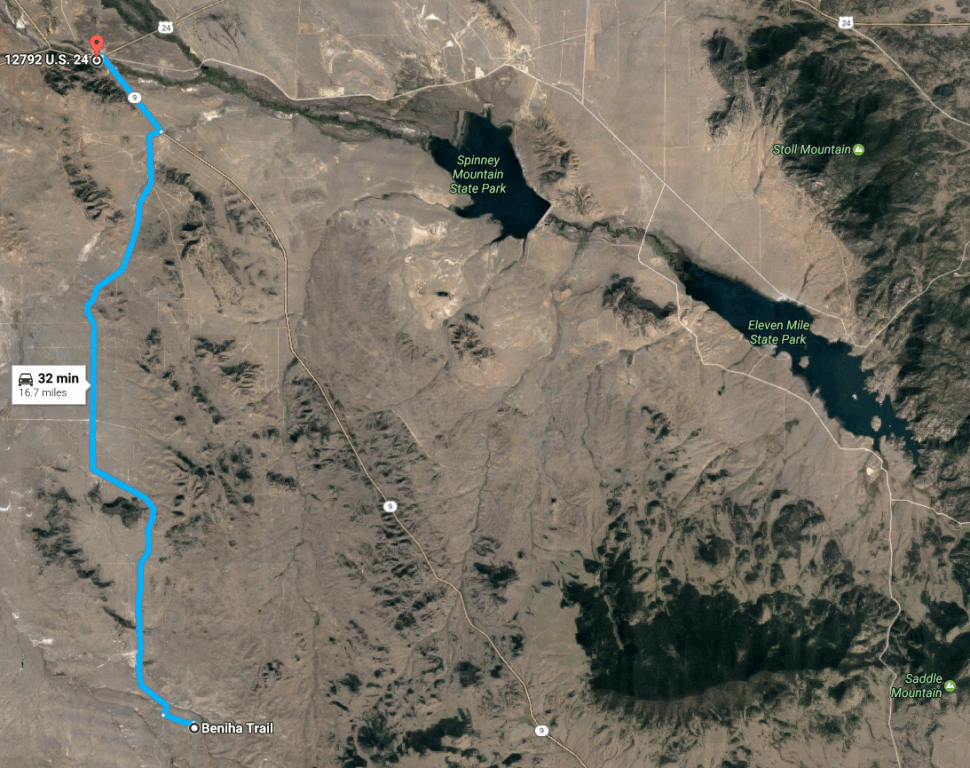 Park County History
Located in the center of Colorado, Park County figures in the center of the "Pikes Peak or Bust" gold rush of 1859. A trapper from Kentucky named Jim Pursley told Zebulon Pike, an explorer mapping the newly acquired western land for President Thomas Jefferson, that he'd found gold in the South Park, a big high-altitude basin in the middle of Park County. In that 1806 meeting, neither man was interested in gold. Pursley was trapping beaver and Pike had a report to complete. When, in 1859, a prospector found nuggets and flakes of gold near what would soon become the city of Denver, the discovery triggered a stampede of gold-seekers and families looking for a new life in the Rockies. Within a year and a half, the population of the area known as Colorado jumped from a few thousand Native Americans and a few hundred mountain men to more than 30,000 people. One-third of those settled in Park County where miners found millions of dollars of gold.
Tourism As soon as the buffalo trails became wagon roads and then railroads, Park County became a mecca for tourists. Many of the first homesteads in Platte Canyon became hotels and restaurants for the hungry travelers heading for the gold country. Hundreds of visitors came on the trains from Denver and Colorado Springs to hunt, fish, sightsee, and pick flowers. When cars and highways replaced the trains, guest ranches and resorts continued to host visitors seeking to find the real Colorado.
Current South Park Unlike many of the surrounding counties, most of Park County has changed very little. The wide open ranch land still hosts cattle, bison, elk, deer, and antelope, and the forests are home to bears, mountain lions, foxes, and lynx. Residents of Park County still brave the elements for the privilege of living among the breathtaking scenery and abundant outdoor recreational opportunities that are a part of this area. Many of the historic buildings, mining camps, towns, ranches, and natural wonders are available for the visitor to enjoy.